Glory Days Kelowna Duo client reviews – what they say—-
https://www.facebook.com/glorydayskelowna
What a great "little" band! A great variety of songs! Energetic, welcoming and interactive!! Thank you for a great evening! If you're ever Alberta, let me know!!
Sher Paul Edmonton Alberta April/22
Music we all know by great musicians at a volume where you can hear every note and every word.
This IS a 5 star band. Love it!
D. Wiens Sept 25 21 at Grizzli Winery
Recently spent one week's vacation in Kelowna. We visited Grizzli Winery and had the good fortune to be entertained by Glory Days!
Loved the songs, the big sound, and especially John and Linda! So very talented
Marilyn Albert September 25th, 2021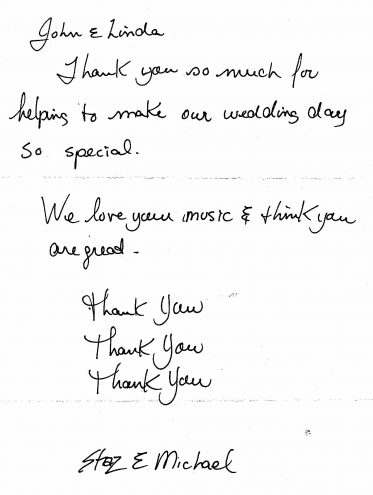 Hi John and Linda.
I wanted to let you know I had a ton of compliments about the music from the ladies that attended our bonspiel. They loved the mix of music!! I don't remember ever seeing the dance floor empty! The volume was perfect. We could easily carry on conversations while enjoying the music. You two were such good sports helping with the door prizes. Thank you for that!
I hope this exposure works into more gigs for you. I know we would definitely use you again. Looking forward to seeing you at our next function!
Sincerely,
Susan W. (Jan 19/19)

My husband and I had Glory Days play at our wedding! Linda and John are very friendly and really accommodating! They were the easiest of our vendors to deal with and always responded in a timely manner! They played a wide variety of music and kept my guests very happy. If your looking to hire a band for any event or just want to listen to some good ole music! I would highly recommend Glory Days! Chelsey W. Sept 15/18 Wedding Oliver B.C.,
Glory Days played for us at a very successful retirement party with approximately 50 guests. They were the perfect choice. The band has a very extensive playlist covering a wide range of genres, and was also happy to entertain song requests from the floor. A good part of the crowd was on the dance floor until closing and many didn't want to stop. We greatly appreciated their professionalism, and, as hosts we received many compliments on the quality of the band and the selection of music performed. Karen Kappel Feb 2018
We've heard this duo several times and it's always great music. What I really appreciate is that we can still hear each other when out with friends chatting over drinks. The perfect volume and music genre never disappoints. Alena K. March 2017 (Cache' Lounge)
What a blast for our Back to the 50s & 60s event! The music was fantastic! Every tune brought back wonderful memories and brought us to our feet to dance the night away. Thank you Linda and John for making our event so enjoyable.
Mignonne Wood; Co-Host for Sandbridge Back to the 50s & 60s.
We booked Glory Days for our 60th birthday celebration with family and friends of all ages. They supplied a large playlist for us to pick a favorite type of music and they played great all night. At one point, all of our guests were on the dance floor at once – a nice compliment to their song choice and talents. Nice people to work with as well. I and many of our other guests will use Glory Days again. Hope the Yacht club we were at – will as well.
James Ray April 23 2016, Birthday celebration, Kelowna Westbank Yacht Club

The dance was well received at the Legion Hall tonight. We had a great crowd and the Duo "Glory Days" was excellent with a good selection of songs. The dance floor was full most of the evening and the audience was entertained from start to finish! Rusty
Jan15 20016 – Rusty – Osoyoos Community Dance
Kudos to Glory Days!
I hire the dance bands for our Dance Group held in the Summerland Legion on the 2nd Saturday of each month October thru to May. I discovered 'Glory Days' and they are now one of my regulars who play for the season. They are very versatile and can play to all types of dancers. Great sound and variety. I would highly recommend them for any function. John & Linda – great couple!
Reviewer: Janice Cornett-Ching
Event Date: December 5th, 2015
Awesome Duo We had the pleasure of hiring this band to play at a 50th Birthday Party. They were fantastic and made this special event a success.
Thank you
We will have you back for sure…………
Reviewer: Christine Sposato Event Date: September 5th, 2015 Event Type: Birthday (Adult)
"We enjoyed your music so much this past New Years Eve that we'd like to see about booking you again for Dec 31, 2015." Susan
"Great job you guys! We had compliments all night long." Lloyd L. Family Reunion – July 2014
"accomplished artists with professional manner and sound, easy on the ears, with a great selection of tunes to keep us rocking. Great time had by all, would definitely book again." Special thanks and best wishes to you both….Guy & Paige Sept 2014 Anniversary Party Penticton Golf Club
"Thank you Linda and John for your wonderful performance. It was nice to see so many up and dancing at our event. Thanks, especially for being flexible and taking all of the crowds personal song requests. Your level of service was so professional and understanding to client needs. Keep up the great work!!" Central Okanagan Professional Caregivers Society "Everyone really enjoyed you last time, and hope you can be a regular with us.."
Thanks, Hazel ANAVETS Penticton April 6, 2013
Hi Linda,
"I also had very good feedback from that night. People really enjoyed you guys. I definitely want you guys to come back again Thanks a bunch"
Elke re: Sept 21,2012 President of the Summerland Legion
"Great show!" Mike – The Grove Bistro Mgr. Kelowna Lake CityCasino Feb 24/25 2012
"You guys did a GREAT job. I got nothing but compliments all night. Would you consider coming to Edmonton and playing at my restaurant??" Feb 11 2012 Birthday Party Len Quaghebeur President Kokanee Springs RV Park Ltd. Smoky's Grill Restaurant Ltd. Edmonton Alberta
We certainly enjoyed dancing to your music last night – it was wonderful—
Thanks again for a lovely evening of dancing. The beautiful music made our Anniversary Night that much more memorable. We'll watch for you at the Vernon Legion next spring/summer.
Kind Regards, Ian and Eileen Kilpatrick, Cedar Grove Bed and Breakfast, Vernon, BC Sept 16 2011
"Teala filled me in on everything and also told me you guys were great! The kitchen staff and servers even thought it was wonderful seeing as they rarely get to be a part of the nightly entertainment We hope to get you out again either this year or next year. We will always keep you guys in mind." Cassy M.- Okanagan Resort Vantage Point Lounge – Event Coordinator (July 2011)
Hello John and Linda
"Your music was everything we could have hoped for and the fact that the dancing continued throughout the night only goes to prove how versatile and sensitive to the guests you were. We received many compliments on the music and presentation. Our sincerest thanks. Gloria/Mike Stoner
Please feel free to use our names in any references." Aug /10 Anniversary

"—— having you and John at our wedding was great , we enjoyed the music thoroughly ,just wish we could have had you play more , I will certainly recommend you to others as well , and thanks so much for being there for us" ….Jim and Linda Montain Sept.8th/09 Wedding
"Thank you for the great performance at our parent's 50th Wedding Anniversary on July 25, 2009. Friends and family are still commenting on how much they enjoyed the music. Playing the limbo for the kids was an extra special bonus. The variety of your music was perfect for the crowd of all ages. Organizing the event with you was stress free. Your flexibility for including time for our slide show was also very appreciated. Thanks again for being a huge part of the celebration". Lorelei B. Re: July 09 "Hi folks , I thought you did a great job at our wedding , you provide a good service and a good Varity of music……………. Feedback from people that attended the wedding was all positive everyone had a good time and enjoyed the dancing . Once again thanks for your service ." (Brian & Tracey W. wedding Sept 06/ Duffer's Kelowna)
"Hi Linda! I wanted to thank you so much for being part of the anniversary party. It couldn't have gone any better. I really appreciated how flexible you were (i.e. playing for the "walk down the isle," talking to the minister, playing during dinner, etc.!). I think you guys really gave the evening a great "mood" and it was easy to get up and dance. I think in the end, everyone had the urge, at least once, to get up and dance! I sincerely appreciate all your help throughout the process, especially with suggestions of where to get help for the party and your continuous updates up until the event! Thanks again Linda, you guys were amazing. My Aunty Terry even asked about having you to a party of theirs! Keep up the good work and great music!" Sincerely, Tricia (October 7/06 Anniversary Party Benvoulin Hall Kelowna)
"The music made the party! You did a GREAT job! THANK-YOU!! I have your web-site and I will tell others about you." Mrs. A. B. 60th wedding anniversary, July 1st 2007
"Hello Linda and John, Wow, was that great or what Everyone at the party loved the music you played I have not seen my mom dance in years and it was like she could not sit still. We all had a fabulous time and thank you for that. It was a beautiful afternoon and evening for this event. To have you play in the backyard was fun for everyone. Even my neighbours came out to listen. I can hardly wait until the next event! " The Bryan family (Sept.15,2007)
"Everyone enjoyed the live music, which included lots of variety that made getting out on the dance floor really easy! Look forward to possible future events." Cheers, Keith Kelowna Curling Club November 07
"Thank you so much for entertaining at our Westbank Lion's Christmas Party. Everyone thoroughly enjoyed themselves, – they were up dancing. What a Wonderful sight. We will keep your business Card, and hope to see you again at one of our functions. Our most sincere thanks for the wonderful variety of music, you kept the crowd going. Merry Christmas to the both of you and may you continue to entertain the same great way in the New Year." Sincerely Westbank Lion's Club Dec 14 2007
"Jeff and I would like to thank both of you for the great job you did on Saturday. Everyone thoroughly enjoyed the music.—-
Thanks again and we look forward to hearing from you."
Jeff & Maria Vernon Singles Club May 08
"Thanks again Linda,
It was a great evening and would not have been the same without you and John there! Everyone loved your music and hopefully you will get more business out of it!"
Linda Lylick Account Manager & Business Development Quantech Software.com Inc. August 2008
"You guys were great – can you play again—–
hopefully in the new year we can get you in a regular rotation- the dancers seemed to enjoy you a lot ! Me too!!" ……Heather M. August 08
"P.s Linda, we both wanted to thank you from the bottom of our hearts for your beautiful playing." Ciao From Gianfelice and Serina. August 2008 wedding