A great choice for in house celebrations, backyard get together, anniversary or birthday entertainment, easy listening, public fairs and events, wedding receptions, Christmas, Hallowe'en, Valentine's dances or party themed parties such as 50's to 2000+ rock n roll, country, pop.
Kelowna needs more Glory Days! Finally music you can really dance to with the musical skills you can't help but appreciate. See you there!
H. Borrego
AUG. 6/23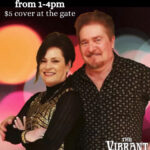 1-4 PM outdoor stage
$5 cover

AUG. 12/23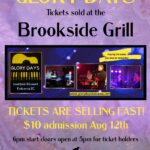 Live music Event $10

doors open at 5, music at 6

AUG. 18/23
Music starts at 7:30 PM
No cover
a

ug 26/23
Saturday August 26th BBQ Steak Dinner , salad , baked potatoes and all the fixings $20 @ 5o'clock Followed by

Glory Days

@ 6 PM Dinner tickets available at the bar Entertainment N/C
sept. 9/23 (new date)

thunder mountain pig roast and
live entertainment event
dinner at 6:30p m,
tix $20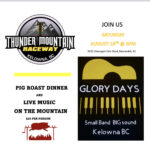 sept.17/23 (new date)

ok falls
wine club party

sold out
oct.25/23
private event 2-3 pm
oct.28/23

private event 2-3 pm
nov.3/23/23
Penticton Dance – psdic
7:00 – 9:30 PM
$10 tix at the door
dec.2/23
Private Christmas Party 7:30 – 10:30 PM
West Kelowna
dec.6/23
private event 2-3 PM
dec.16/23
Christmas Dinner/Dance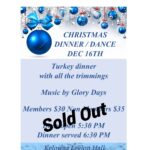 Kelowna Legion Hall
Call 250-762-4117 for info/tickets/reservations
dec.27/23
Birthday Party
dec.31/23
nye – private event
Mar. 17/24
St. Paddy Dinner Dance
The Center Penticton
Details tBA
Aug. 17/24
Michaelbrook Golf
details TBA
Glory Days played for our club dance a few weeks ago and they were fantastic! A great selection of music that had everyone tapping their feet and dancing. They had the perfect vibe for our group. It was pretty impressive to hear the full band sound two good musicians with the right equipment could create.
Thanks guys!
Karen L. Kalamalka, B,C. Sept. 10/22
Thanks again for a wonderful job! —we'll be in touch. People want you guys back!
H. Borrego Sept. /22

Kelowna needs more Glory Days! Finally music you can really dance to with the musical skills you can't help but appreciate. See you there!
Dar Cargoyle Sept. 22
Had a fantastic time watching their show
Ken Fraser Kelowna, BC July/22

Thank you Linda and John (Glory Days) for playing at the Rutland Activity Centre Saturday Dances. I personally have booked Glory Days 7 times this year. Every Dance over the years has been an enjoyable experience! Jean and I enjoy dancing and listening to all of their songs. John and Linda have a very extensive play list covering several music genres and multiple dance styles.
Nadean O. June 18/22
We had Glory Days come and perform our first post-COVID event at Michaelbrook Golf and it was a huge success. From the genre of music played, to the volume and the length of sets – it was all a perfect fit four our guests! We would love to have them back very soon! Highly professional and would recommend!
Great band, lots of variety. Good for listening and excellent for dancing. Always have lots of fun when they are entertaining.
Everyone enjoyed the music, perfect for dancing or just enjoying listening to familiar songs we love.
Bill T. Jan.10/20
Hi John and Linda,

Thanks again for another excellent performance. You guys are very adapt at reading the crowd and playing accordingly.
Debbie B. Aug/19
We can't say enough about Glory Days Duo. Their music is outstanding! We've heard this band perform many times at different venues and never been disappointed. You can tell they enjoy what they do. Very professional and talented, definitely a band to hire!
Susan W. (Jan. 19/19)

Hi John and Linda. Susan W. (Jan. 19/19)
I wanted to let you know I had a ton of compliments about the music from the ladies that attended our bonspiel. They loved the mix of music!! I don't remember ever seeing the dance floor empty! The volume was perfect. We could easily carry on conversations while enjoying the music. You two were such good sports helping with the door prizes. Thank you for that!
I hope this exposure works into more gigs for you. I know we would definitely use you again. Looking forward to seeing you at our next function!
Sincerely,
John P. – Dec/18
This is the third year we have had Glory Days play for our private Christmas party, and have been very pleased each time. They choose their music to suit the tastes of the group, and are professional in everything they do. We expect to retain their services again for Christmas 2019. Well done……..
Chelsey W. Sept. 15/18
My husband and I had Glory Days play at our wedding! Linda and John are very friendly and really accommodating! They were the easiest for our vendors to deal with and always responded in a timely manner! They played a wide variety of music and kept my guests very happy. If your looking to hire a band for any event or just want to listen to some good ole music! I would highly recommend Glory Days!
Glory Days played for us at a very successful retirement party with approximately 50 guests. They were the perfect choice. The band has a very extensive playlist covering a wide range of genres, and was also happy to entertain song requests from the floor. A good part of the crowd was on the dance floor until closing and many didn't want to stop. We greatly appreciated their professionalism, and, as hosts we received many compliments on the quality of the band and the selection of music performed.