Events:
Click on Venue for link to more info
MAY 20/22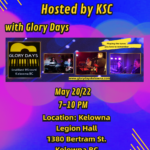 community Dance Sponsored BY KSC
at the kELOWNA LEGION HaLL – TiX at the door –
$10 everyone welcome 7-10 PM

MAY 27/22
VIBRANT VINE –
LEATHEr & JEANS – classic rock and country show 6-8 PM TiX $20 Available at https://www.thevibrantvine.com/GloryDaysMay27

June 18/22
Father's Day event at Michaelbrook Golf
5-7 PM private function

July 1/22
Private Canada Day event
Anglemont Hall –

July 2/22
7-10 PM – tickets at the door
$10 member/$15 non
aug 5/22
Kelowna Legion Dance –
7-11 PM Details TBA
aug 20/22
7-10 PM – tickets at the door
$10 member/$15 non
Oct. 8/22
7-10 PM – tickets at the door
$10 member/$15 non
nov. 26/22
7-10 PM – tickets at the door
$10 member/$15 non
dec. 31/22
Oliver Legion NYE
Details TBA
All events (except marked private) are open to the public, tickets available at the door. Click on name to access venue location and other info .

Email us if you would like more info about any of these events.


If you are looking for versatile live music in the Okanagan Valley then you are on the right page.
Glory Days Kelowna is an affordable and accomplished Duo with a great repertoire playing live music in Kelowna and Okanagan Valley.
They combine expert musicianship, strong vocals and harmonies with today's top-of-the-line music technology.
Specially suited for multi-age groups – the right sound with the right songs at the right price.
They have a proven track record, and travel all around the Okanagan Valley area.
A 'little' band with a big sound
Dance, party, celebrate! Wedding, anniversary, birthday, fundraiser, backyard party – whatever your special event this Duo can help make it unforgettable.

Classic rock'n'roll, country, latin, popular standards. Hits from the 50's to the present – covering artists such as Patsy Cline, Allan Jackson, Dire Straits, Elle King, The Commitments, Tom Petty, Bruce Springsteen, Johnny Cash, Powder Blues, Michael Buble – to name a few.
Over 300 song repertoire – including instrumentals
Repertoire available on request
What a great "little" band! A great variety of songs! Energetic, welcoming and interactive!! Thank you for a great evening! If you're ever Alberta, let me know!!
Sherri May April 22 2022
Laurel E.
•
July 26, 2021
Everyone enjoyed the music, perfect for dancing or just enjoying listening to familiar songs we love.
Hi John and Linda,
Thanks again for another excellent performance. You guys are very adapt at reading the crowd and playing accordingly. Bill T. Jan.10/20
We can't say enough about Glory Days Duo. Their music is outstanding! We've heard this band perform many times at different venues and never been disappointed. You can tell they enjoy what they do. Very professional and talented, definitely a band to hire!
Debbie B. Aug/19
Hi John and Linda. (Jan. 19/19)
I wanted to let you know I had a ton of compliments about the music from the ladies that attended our bonspiel. They loved the mix of music!! I don't remember ever seeing the dance floor empty! The volume was perfect. We could easily carry on conversations while enjoying the music. You two were such good sports helping with the door prizes. Thank you for that!
I hope this exposure works into more gigs for you. I know we would definitely use you again. Looking forward to seeing you at our next function!
Sincerely,
Susan W.
John P. – Dec/18
This is the third year we have had Glory Days play for our private Christmas party, and have been very pleased each time. They choose their music to suit the tastes of the group, and are professional in everything they do. We expect to retain their services again for Christmas 2019. Well done……..
Chelsey W. Sept. 15/18
My husband and I had Glory Days play at our wedding! Linda and John are very friendly and really accommodating! They were the eaailiest od our venders to deal with and always responded in a timely manner! They played a wide variety of music and kept my guests very happy. If your looking to hire a band for any event or just want to listen to some good ole music! I would highly recommend Glory Days!
Glory Days played for us at a very successful retirement party with approximately 50 guests. They were the perfect choice. The band has a very extensive playlist covering a wide range of genres, and was also happy to entertain song requests from the floor. A good part of the crowd was on the dance floor until closing and many didn't want to stop. We greatly appreciated their professionalism, and, as hosts we received many compliments on the quality of the band and the selection of music performed.
A great choice for in house celebrations, backyard get together, anniversary or birthday entertainment, easy listening, public fairs and events, wedding receptions, Christmas, Hallowe'en, Valentine's dances or party themed parties such as 50's to 90's rock n roll, country,
Your special event is their special event!!
Email: glorydays@glorydayskelowna.com
or call 250-763-0988